Dear Colleague,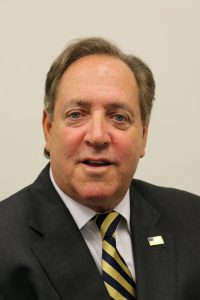 Change.  It affects us all and I have seen so much in my 29 years as a member and officer of the NYC Chapter of ASIS.  As I take the helm of this great organization I am reminded of the words of Winston Churchill who said "the price of greatness is responsibility."  I am responsible to you, the members, for the stewardship of the Chapter and I cannot do this job without your help and the help of my fellow Board Officers:
Vice Chairman-Donald Francisco
Treasurer-Stephen Sacchetti
Secretary-Brian Reich
Sergeant at Arms-Manny Gomez.
My role as Chairman begins as we change administrations in Washington, DC, and this marks a new beginning for us all.  During my term, the Board will focus on education and we will be bringing back the CPP review class to be taught by our Chapter members.  You asked for training in your own back yard and we listened.  Our Speaker Committee will continue to engage dynamic guest speakers who will share their knowledge and expertise at our monthly meetings.
The Board will also work closely with our Women in Security (WIS) and our Young Professionals (YP) to continue to grow the membership of this great Chapter.  They are planning several events that will foster networking and enhance relationships among security professionals.
Our scholarship program is where we promote and support higher education as well as recognize and reward the outstanding achievement and professionalism of those in our industry. We plan on continuing to invest in those pursuing higher education as well as those who demonstrate excellence & professionalism in the security industry.  In addition, our Chapter is proud to sponsor a Mentoring Program.
The annual Person of the Year luncheon and Trade Show will be held on June 7th and 8th at the Javits Center and this is where thousands of security & law enforcement professionals can view the latest technology and services as well as attend a full roster of educational programs and networking events.  Twenty-seven years ago, our trade show plus educational seminars, started with six vendors on the mezzanine level of the Penta Hotel and has grown into one of five global ASIS educational trade shows.  It is the largest regional trade show of its kind.  The Trade Show Committee will work closely with the Chapter leaders and its Advisory Committee in conjunction with ASIS International to attract new exhibitors, offer industry-leading training, plus advertising opportunities and more chances to network.
This Chapter has always supported those who are less fortunate through charitable contributions and I will continue this practice during my term.  Our annual golf outing is just one of many events at which we donate the proceeds to charity and past recipients have included St. Jude Children's Research Hospital, the Wounded Warrior Project, Companions for Heroes, Breast Intentions, the Lustgarten Foundation and the Lexiebean Foundation.
The members of the NYC Chapter of ASIS are the best security and law enforcement professionals in the industry and I am honored to call them colleagues and friends.  Our Chapter would not be great without the ongoing support of numerous volunteers and companies that understand the need to leverage our resources and shared knowledge for the betterment of the security industry.
Sincerely,
Lynn S. Brown
Chapter Chairman
NYC Chapter, ASIS